Icon Painting Workshop
Spyridon Ntounis
---
About Us:
Mr. Spyros Dounis maintains his Hagiography Lab at Vasilissis Olgas Str. in Koropi, Attica for several years and offers his services either in the form of courses or as complete professional work.
He studied at the School of Antonis Kourtikakis "Hellenic Center of Art and Culture" in the Byzantine Hagiography department.
He was taught the history of the hagiography art, narrow and wide style, free design, coloring and the technique of stucco gold in the portable image.
He was also taught the technique of fresco (fresh) as well as mural on canvas with modern materials. The duration of the studies was from September 1989 to June 1991.

He was also taught mosaics from January to June 1991.
Professors: Mr. George Barounis, Mr. Ioannis Lambrineas and Mr. Lazaros Konstantinidis.
He received practical lessons in Cathedral of Marina Alykou Koropi from the Hagiographer and Professor Mr. Alexandro Bata.
In the sacred cell of the Holy Archangels of Karyes - Mount Athos, he received lessons from the Hagiographer Michael the Monk.
He participated in group exhibitions and seminars organized by the Panhellenic Hagiography Association, where he has been a member since 1996 and works professionally.
He is a member of C.F.A.G. (Chamber of Fine Arts of Greece).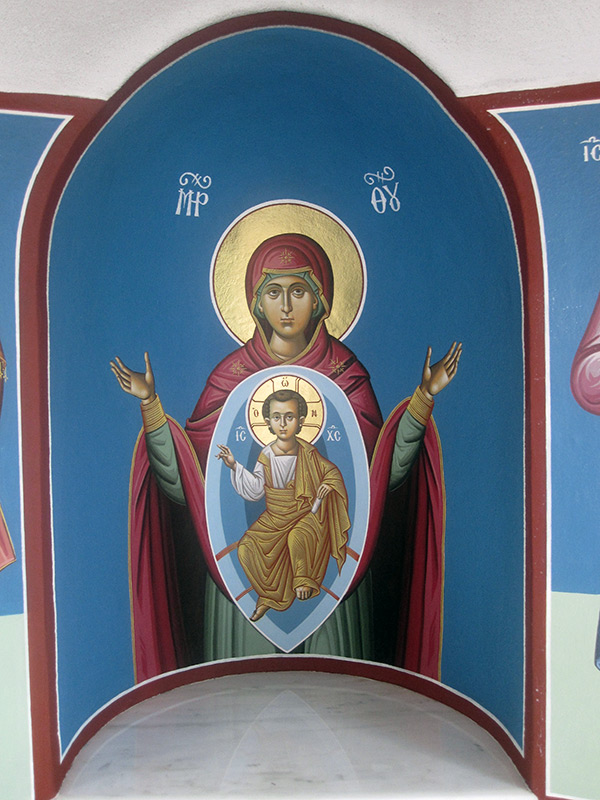 ---
---
---
---
Contact Us
Tel. 210 6624685 | Mob. 693 2374956
Email: spntou@yahoo.gr